Ambassadors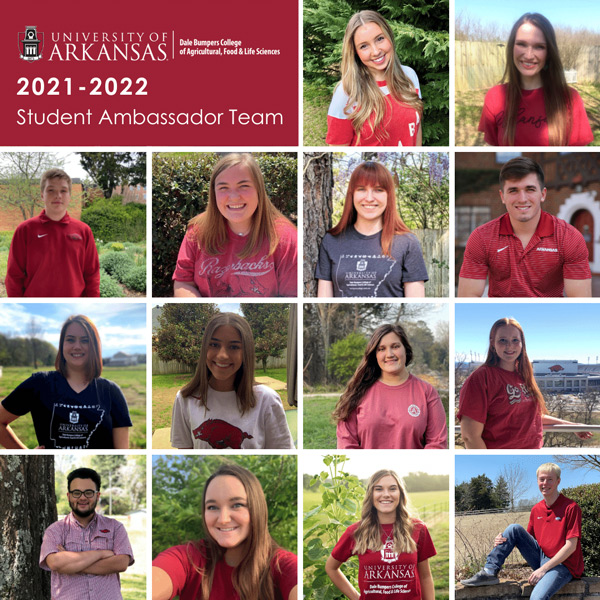 The mission of the Dale Bumpers College Student Ambassadors is to promote, empower, and inspire the Bumpers College family by upholding these defined core values:
by being inclusive
by being knowledgeable and resourceful
by remaining professional and approachable
by appreciating diversity
by showing the family aspect of Bumpers College
by being servant leaders.
2021-2022 Ambassadors
Golda Nunneley, Fayetteville, co-lead (apparel merchandising and product development)
Laykyn Rainbolt, Marshall, co-lead (animal science)
Emory Johnson, Fayetteville, Department of Agricultural Economics and Agribusiness
Madison Estepp, Prairie Grove, Department of Agricultural Education, Communication and Technology
Haley Stanton, Little Rock, Department of Animal Science
Tanner King, Marion, Department of Crop, Soil and Environmental Sciences
Kaitlyn Hope, Hot Springs, Department of Food Science
Isabella McPherson, Farmington, School of Human Environmental Sciences (human nutrition and dietetics)
Isabella Norsworthy, Farmington, Department of Horticulture
Payton McGinnis, Navasota, Texas, Department of Poultry Science
Emilee Block, Reeds, Missouri, out-of-state students (agricultural education, communications and technology)
Cheyenne Britt, Sand Springs, Oklahoma, transfer students (agricultural education, communications and technology)
Kole Rector, Greenland, honors program (animal science)
Logan Moss, Rosston, diversity, equity and inclusion (agricultural education, communications and technology)
Ambassador applications are open now!
Applications must be submitted by March 6, 2022, at 11:59 p.m.
Have questions about becoming an ambassador?
If you have questions about what ambassadors do, how to become one, or even if the current team is available for a college event, please contact Katie Dilley, Undergraduate Recruitment Coordinator, at kdilley@uark.edu.