Ambassadors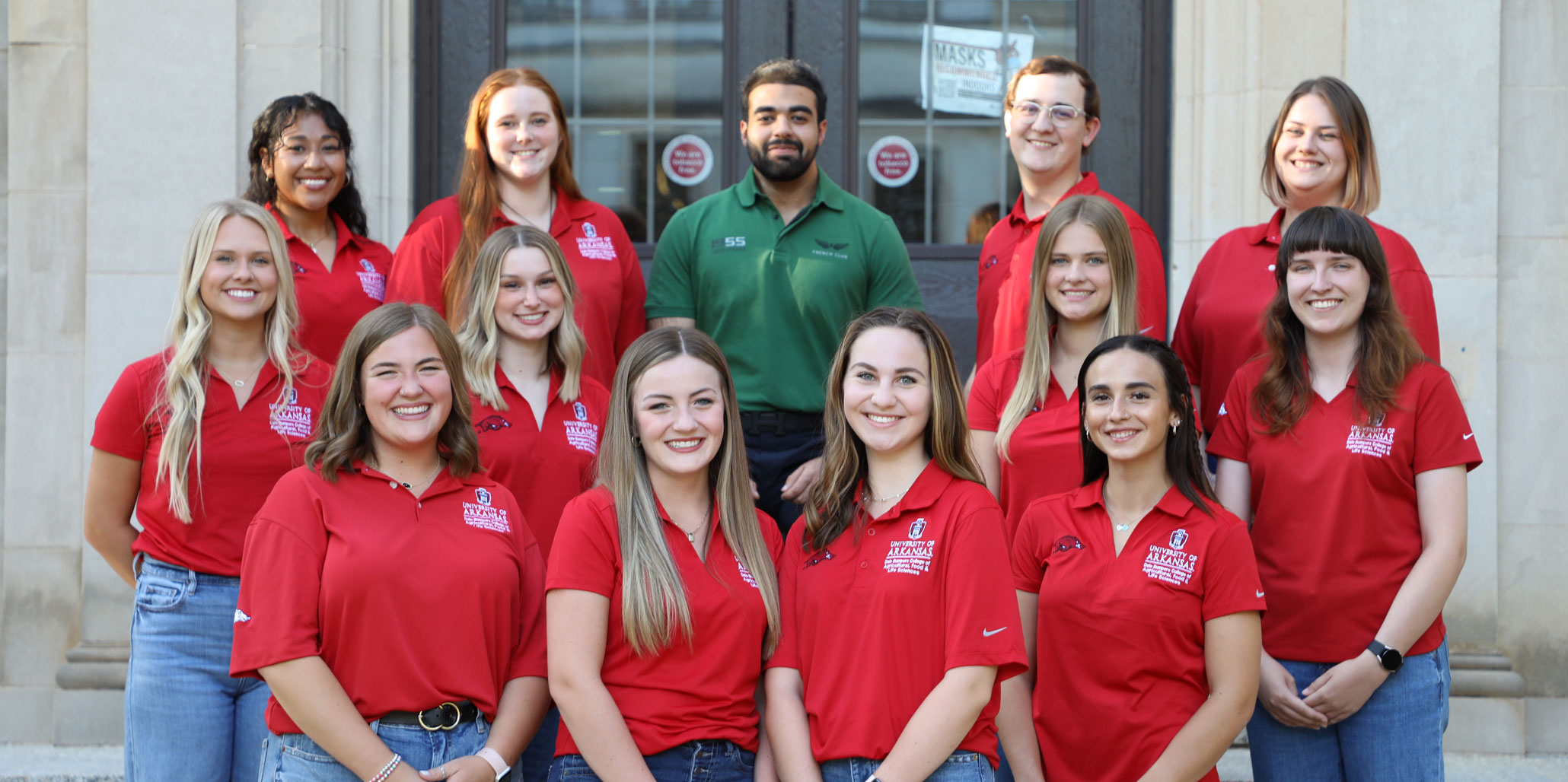 The mission of the Dale Bumpers College Student Ambassadors is to promote, empower, and inspire the Bumpers College family by upholding these defined core values:
by being inclusive
by being knowledgeable and resourceful
by remaining professional and approachable
by appreciating diversity
by showing the family aspect of Bumpers College
by being servant leaders.
2023-2024 Ambassadors
Madison Estepp- Lead Ambassador, Agricultural Education (Major) and Agricultural Leadership (Minor)

I am a senior from Prairie Grove, Arkansas studying Agricultural Education with minors in Agricultural Leadership and Agricultural Systems and Technology Management. This is my third year serving as an ambassador and my second being the Lead Ambassador! Throughout my time in Bumpers College, I have found my place, my people and had impactful opportunities that have led me to where I am now. I hope that as an ambassador, I help students find their place, their people, and opportunities that will help mold their future for success.
Abigail Norsworthy- Crop Science and Agricultural Business

As a Bumpers ambassador, I'm here to help you discover clubs and organizations that match your interests and offer support throughout your time on campus. Trust me, the commitment to education and atmosphere at Bumpers College is truly one-of-a-kind.
Abby Lunn- Food Science

I wanted to be an ambassador because of how passionate I am, not just for my major but for Bumpers as a whole. I love the community like atmosphere and how easy it is to get to know people on a personal level. I am so excited to be representing Bumpers College!
Malinalxochitl Ilhuicamina-

Food science (food technology concentration) with a minor in Natural Resource Management

I decided to become a Bumpers College Ambassador because Bumpers College has given me a wonderful experience! The administration has helped me connect with like-minded students, teachers, and programs, which have supported me throughout my university career. I also wanted to join to develop my own leadership abilities so that I could be in a position to help other minority students have a sense of belonging on our campus!
Molly Parker- Agricultural Economics and Agricultural Business

I am an ambassador because I want to share my passion for agriculture with other students. I love meeting new people, and I love telling people about how much I love Bumpers College!
Jimena Rodriguez- Animal Science

I have always enjoyed connecting with new people and finding that common ground with them. I love sharing the opportunities that I have been given through the U of A, but especially from Bumpers College. Being a Bumpers Ambassador has combined my favorites aspects of being a student at the University of Arkansas, into one.

Schyler Angell-

Agricultural Communication with a minor in Event Planning

When I began at the University of Arkansas, I did not know anyone else attending. Within my first few days of classes, I felt so welcomed by the faculty and the Ambassadors team. Those individuals helped me become involved within the college, find professional development opportunities, and build lasting connections. I am so thankful to have had that support as a new student, and I am excited for the opportunity to help others in a similar way.
Elizabeth (Lizzie) Tribout- A

gricultural Business with minors in Ag Communications and Ag Leadership

When touring the U of A as a high school student, I was told that Bumpers College made this huge campus feel small. After completing my first year at the U of A as a Bumpers student, I can confirm that Bumpers has given me a home away from home. I am an ambassador because I want to reassure current and future students that adjustment to college life can be difficult, but Bumpers makes this adjustment less stressful and more manageable.
Caroline Cheek-

Environmental, Soil and Water Science, and English Rhetoric & Composition

When arriving at the University as a freshman, I had no idea how much Bumpers College would equip me, guide me, and offer me in my academic journey. The faculty, staff, and students shaped and encouraged my path and granted me opportunities and relationships that I would trade for the world; I want every student to be emboldened as a learner and as a person the way I was! I serve as an ambassador to do just that and am so excited to see what the next few years bring!

Noah Boggs Riley

-

Human Development and Family Sciences

I have always had a deep love and appreciation for the University of Arkansas and the unique opportunities it provides students. When I discovered the Bumpers College Ambassador program, I knew that it was the perfect way for me to give back to an institution that has given me so much. As an aspiring leader and advocate for education, becoming a Bumpers College Ambassador is an incredible honor. I am passionate about sharing my experiences, knowledge, and enthusiasm for Bumpers College with prospective students, their families, and visitors, and guiding them towards choosing the right path in higher education. I am driven by the desire to make a positive impact and create meaningful connections, and serving as a Bumpers College Ambassador allows me to do just that by sharing the transformative power of a Bumpers College education and inspiring others to pursue their dreams confidently.
Alexis Fiorentino- Animal Science with a minor in Agribusiness

I became an ambassador of Bumpers not only because I LOVE the UofA, but I also love being able to be a resource to help new students in their college career and navigation. As a first generation college student, this is so important to me! I also look to bring more diversity into the college as well as help ALL fully pursue their purpose and path of education. My experience as being an ambassador has been a blessing as well as such a great opportunity to connect with people!
Abbigail Slaughter- Poultry Science

I pursued this ambassador position to help incoming students feel at home. I remember coming in as a new freshman and I had no clue about the inclusivity I would soon experience. It was something I definitely didn't expect, especially as a student in the agricultural college. I want to be able to welcome new students and existing students who feel alone, with open arms. I am so excited to share and add to this amazing community that I love so much!
Evan Seay-

Agricultural Communication

I became an Ambassador because from freshman year the Bumper college has helped me a lot academically, mentally, and physically. This college has been there for me from highs and lows, it was the least I could do to give back and help other students who wish to pursue a degree in Bumpers College!
Have questions about becoming an ambassador?
If you have questions about what ambassadors do, how to become one, or even if the current team is available for a college event, please contact Laykyn Rainbolt, Undergraduate Recruitment Coordinator, at lrainbol@uark.edu.