Ambassadors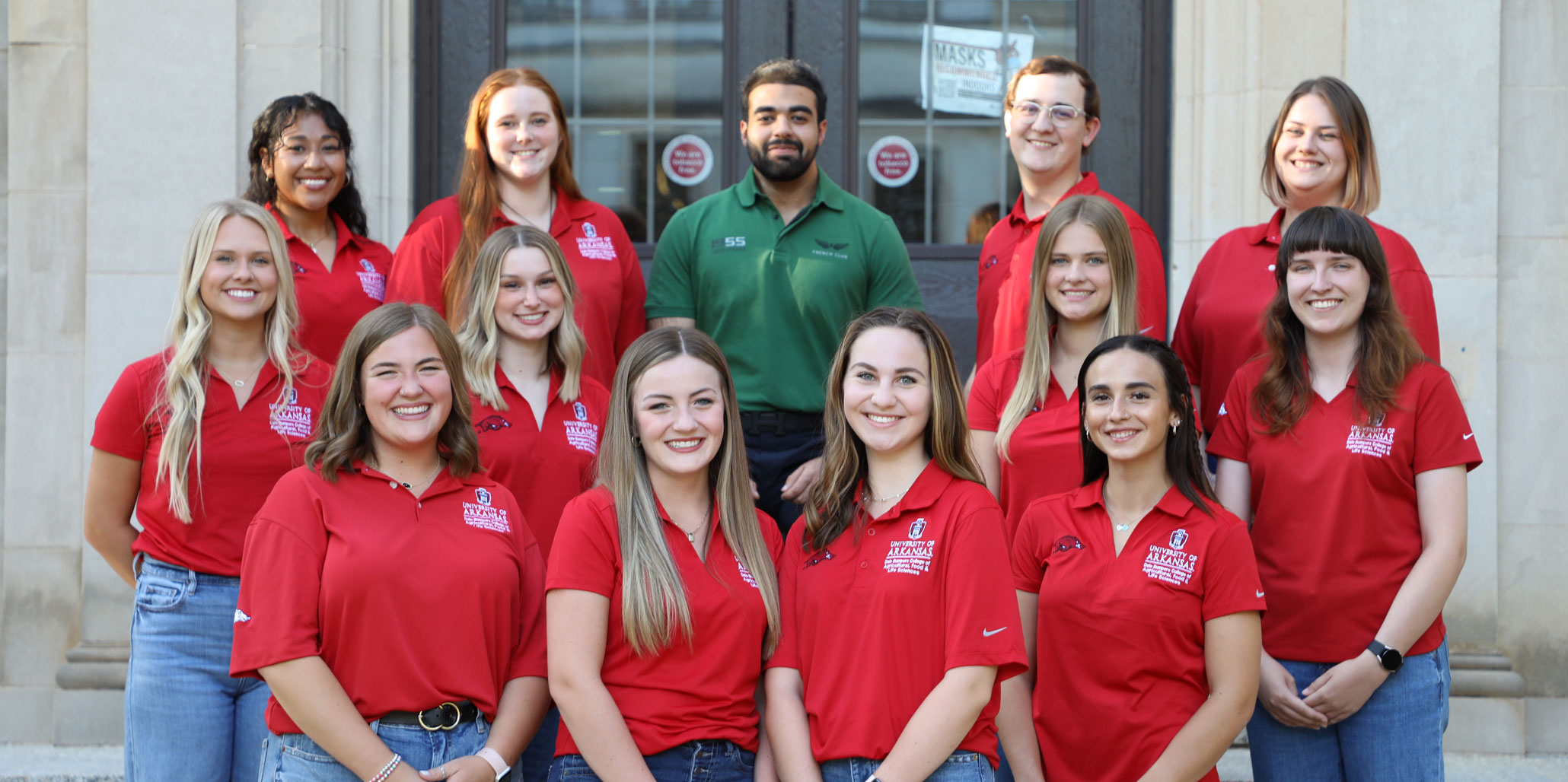 The mission of the Dale Bumpers College Student Ambassadors is to promote, empower, and inspire the Bumpers College family by upholding these defined core values:
by being inclusive
by being knowledgeable and resourceful
by remaining professional and approachable
by appreciating diversity
by showing the family aspect of Bumpers College
by being servant leaders.
2022-2023 Ambassadors
Madison Estepp- Lead Ambassador, Agricultural Education (Major) and Agricultural Leadership (Minor)

I wanted to be an ambassador because I love Bumpers College! Over my past 3 years as a student, I have been able to meet my absolute best friends, grow as an individual, and have impactful mentors that have encouraged me to accomplish anything and everything.
Brooklyn Johnson- Agricultural Education, Communication and Technology

When I transferred to the U of A, I was eager to get involved in my major and within the college. I few past ambassadors helped me find clubs that best suited my interests and helped me find ways to connect with other students on campus. The impact that they had on my college experience has been incredible, so when the opportunity came, I applied to be an ambassador so that I could make a positive impact on students just like me.
Abby Lunn- Food Science

I wanted to be an ambassador because of how passionate I am, not just for my major but for Bumpers as a whole. I love the community like atmosphere and how easy it is to get to know people on a personal level. I am so excited to be representing Bumpers College!
Gracie Hewat.- Agricultural Education, Communication and Technology

After being recruited by a Bumpers College Ambassador when I was in high school, I knew it was a goal of mine to become an Ambassador myself. I love getting to connect with current and prospective students and talking about all the reasons why I love Bumpers College!
Molly Parker- Agricultural Economics and Agricultural Business

I am an ambassador because I want to share my passion for agriculture with other students. I love meeting new people, and I love telling people about how much I love Bumpers College!
Jimena Rodriguez- Animal Science

I have always enjoyed connecting with new people and finding that common ground with them. I love sharing the opportunities that I have been given through the U of A, but especially from Bumpers College. Being a Bumpers Ambassador has combined my favorites aspects of being a student at the University of Arkansas, into one.

Muhammad Ali Muhammad- Poultry Science and Agriculture Business

I became an ambassador to be in a leadership position. This means that I must be actively knowledgeable what is going on in the Collage and outside of the Collage. Being an ambassador means to become an example not only to the current students but also prospective students.
Haley Stanton- Animal Science (Major) and Biology (Minor)

I'm an ambassador because I want to reach out to prospective students and also assist with events for current students. It's my goal to facilitate a feeling of excitement about college and create a sense of community. Bumpers College has amazing programs and opportunities, and I want to share those with others!

Katie Hope- Food Science

Even at a university with over 30,000 students, I am able to walk down the halls confident that my professors not only know my name, but care about my future and success. This support has been instrumental in my education, and I know it is something that I was only able to experience as a student of the Bumpers College. It's because of this that, as an ambassador, I strive to help students find their place of belonging as I did.

Payton McGinnis- Poultry Science and Agriculture Eduation, Communication and Technology

I am an ambassador because when looking at colleges an ambassador took the time to show me around and discuss my options with me. Ambassadors are able to give a student perspective to future Razorbacks. I have loved being an ambassador because I get to interact with prospective students and help all of the departments within Bumpers!
Alexis Fiorentino- Animal Science (Major) and Agribusiness (Minor)

I became an ambassador of Bumpers not only because I LOVE the UofA, but I also love being able to be a resource to help new students in their college career and navigation. As a first generation college student, this is so important to me! I also look to bring more diversity into the college as well as help ALL fully pursue their purpose and path of education. My experience as being an ambassador has been a blessing as well as such a great opportunity to connect with people!
Ambassador applications are open now!
Applications must be submitted by March 6, 2022, at 11:59 p.m.
Have questions about becoming an ambassador?
If you have questions about what ambassadors do, how to become one, or even if the current team is available for a college event, please contact Katie Dilley, Undergraduate Recruitment Coordinator, at kdilley@uark.edu.