Undergraduate Research
Why do undergraduate research?
Participating in research opportunities is an excellent way to get hands-on experience in your potential career field while adding to your resume. These opportunities can assist students in developing an understanding of how to write and share research results effectively, sharing research in citeable publications and gaining skills useful for success in graduate school.
How can I fund my research?
Bumpers College Undergraduate Research and Creative Project Grant Funding Program
The goal of this grant program is to provide funding to encourage undergraduate students to participate in enhanced educational experiences that advance their professional career opportunities through engagement in creative projects and research activities and develop their skills and leadership potential. The deadline to submit these documents is March 15.
Honors Project Funding Opportunities
To support their research or creative projects, participants in the Honors Program are eligible to apply for undergraduate research grants from the Arkansas Student Undergraduate Research Fellowships (SURF) program awarded by the state, the University Honors College, and from the Bumpers College. SURF proposals are due in October.
Honors students can also apply to the Honors College for Research and Study Abroad grants.
Honors College Funding Opportunities
The Honors College provides research grants and study abroad grants to eligible students who have completed over 6 hours of honors credit.
Where do I publish my research?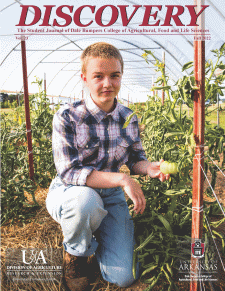 Degree-seeking undergraduate students conducting research with a faculty mentor are encouraged to submit their research to the Discovery Journal, the undergraduate research journal for the Dale Bumpers College of Agricultural, Food and Life Sciences.
Discovery is an avenue for Bumpers College to highlight and publish original research and independent creative projects conducted by Bumpers students in cooperation with a faculty mentor, or in other words Discovery is mainly an avenue to publish the Honors and research projects of students (or student teams) who undertake original, creative, and innovative independent research. Expectations are that the student(s) has gone above and beyond the requirements of literature reviews and is generating a new contribution to the field/discipline.

- Discovery Journal
To learn about submission eligibility and requirements or to submit your research, visit the Scholarworks website.