About the College
The Dale Bumpers College of Agricultural, Food and Life Sciences is proud to provide student-focused, nationally accredited degrees for students interested in successful careers in food, family and the environment. As we continue to honor the land grant tradition, the Bumpers College is committed to providing experiential learning opportunities for our students every step of the way on their path to graduation.
The rich history of the college has shaped the ability to prepare graduates who are intellectually enriched, technically competent, environmentally conscious, and ethically responsible; to be responsible leaders with strong communication skills and problem-solving abilities; and committed to be self-directed, lifelong learners.
The College offers 12 majors and 20 minors through 9 departments and the School of Human Environmental Sciences.
Why should you major in the Bumpers College?
---
Bumpers College is known for its friendly, family-like atmosphere. There were 2,168 students enrolled in the fall of 2015.
The College offers more than 500 scholarships annually worth more than $500,000.
The College has a thriving Honors Program and International Programs Office.
The College offers multiple opportunities for experiential learning through hands-on labs, professional development, leadership development and internships.
Faculty members teach a majority of the courses offered and are experts in the field, including the Interim Dean of the College, Dr. Lona Robertson.
The College has an 85 percent placement rate for employment or graduate school after completing a bachelor's degree.
Between 2015-2020, there are expected to be 57,900 job openings for graduates with degrees in food, agriculture and renewable natural resources and the environment, but only 35,000 graduates in those areas.
---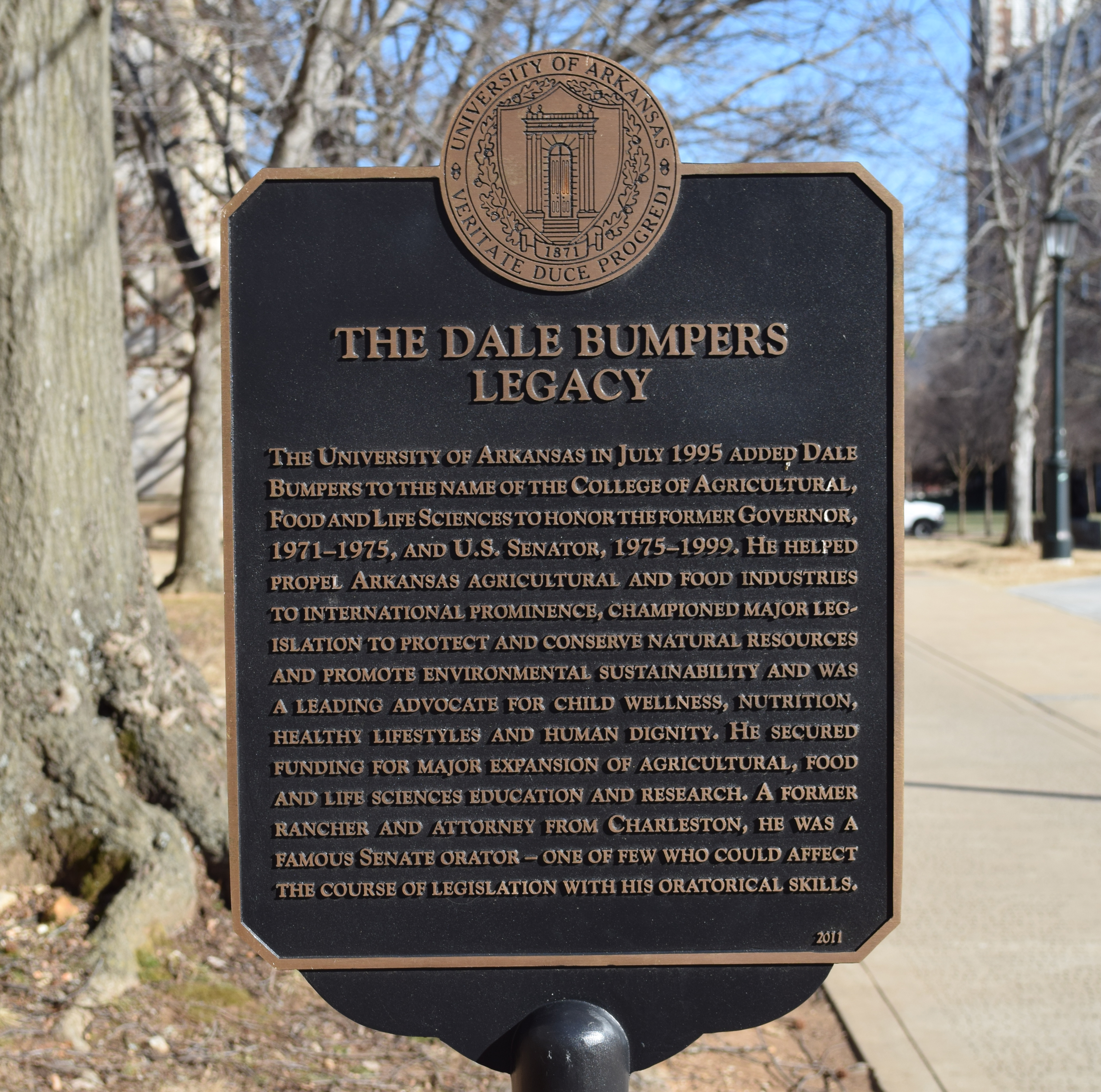 The mission of the Dale Bumpers College of Agricultural, Food and Life Sciences is to improve the quality of life for Arkansans by preparing students for successful careers, conducting impactful research, and sharing knowledge to promote viable food and agricultural systems, sustainable environments, healthy families and vibrant communities.

The namesake of Dale Bumpers College of Agricultural, Food and Life Sciences served with distinction for four years as governor of Arkansas, and then for 24 years in the United States Senate. In 1995, the University of Arkansas Board of Trustees recognized his service by renaming the college in Bumpers' honor.